litters and kittens at the Cattery Maine Coon Castle
Thank you for your interest of our kitten of Maine Coon Castle®.
The kitten of Maine Coon castle are socialized, are inoculated, wormed, given a chip inside their neck and checked by a veterinarian. They will be given away around the age of 14 to 16 weeks and we want that there is no reason for them to complain about their new home. If you have any questions do not hesitate. We will be glad if we can help you with some advices. The welfare of our kitten is close to our hearts.
Every interested breeder will get the complete relevant tests of to his kitten made by our veterinarian when we deliver the cat for their breeding.
We DO NOT do the test ourselves – it is fair and transparency.
Genetically tested (blood): HCM, PK (pyruvatkinase deficiency), SMA | Giardien | FIV and determolically mykology. Potentially, the FeLV test has to be done on your own after the recovery from the second immunisation.
Please read the following advices at: Information for buying a kitten and Reservation and Price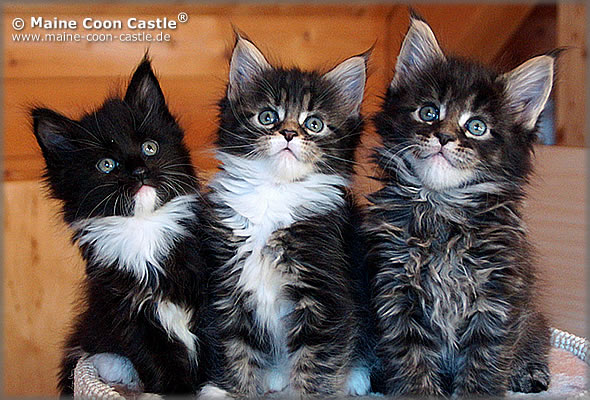 Feel free to send your request at This email address is being protected from spambots. You need JavaScript enabled to view it. or use the contact sheet.
Your Team of Maine Coon Castle®